Select the start time and end time
for your booking here.
110 Huntington Ave.
Boston Marriott Copley Place - Valet
About This Facility
Secure and affordable parking at the Boston Marriott Copley Place Hotel in downtown Boston. Just a few minutes to the Wilbur Theatre, Royale Boston, Wang Theatre, and Charles Playhouse.
Max Vehicle Height: 6'9"
Please pull into the hotel driveway where a Marriott doorman will greet you. Please inform them you have an online parking pass and they will direct you where to park.
If parking overnight, you must drop off and pick up your vehicle within the following hours: Mon-Sun 6am-11pm
Hours of Operation:
Sun 6:00 am - 11:00 pm
Mon 6:00 am - 11:00 pm
Tue 6:00 am - 11:00 pm
Wed 6:00 am - 11:00 pm
Thu 6:00 am - 11:00 pm
Fri 6:00 am - 11:00 pm
Sat 6:00 am - 11:00 pm
1/4
How to Park
1.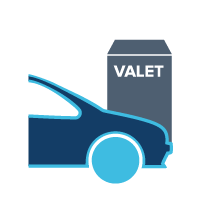 Present parking pass to valet at curbside kiosk in exchange for valet-ticket
2.
If attendant is not at kiosk, please wait as they are parking another vehicle and will return shortly
3.
When you return, present valet-ticket to attendant (tip not included in reservation)