Select the start time and end time
for your booking here.
316 Chartres St.
W Hotel French Quarter - Valet Kiosk
About This Facility
Affordable and convenient valet service at W Hotel in the French Quarter. Just a short walk to House of Blues, Saenger Theatre, Joy Theater and the Audubon Aquarium of the Americas.
If parking overnight, you must drop off and pick up your vehicle within the following hours: Mon - Sun 7AM to 6PM
Hours of Operation:
Sun 7:00 am - 6:00 pm
Mon 7:00 am - 6:00 pm
Tue 7:00 am - 6:00 pm
Wed 7:00 am - 6:00 pm
Thu 7:00 am - 6:00 pm
Fri 7:00 am - 6:00 pm
Sat 7:00 am - 6:00 pm
1/3
Operated by W Hotel - French Quarter
How to Park
1.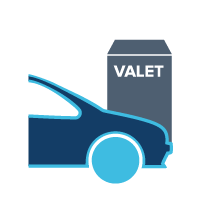 Present parking pass to valet at curbside kiosk in exchange for valet-ticket
2.
If attendant is not at kiosk, please wait as they are parking another vehicle and will return shortly
3.
When you return, present valet-ticket to attendant (tip not included in reservation)