Select the start time and end time
for your booking here.
399 South End Ave.
SP+ Brookfield Place - Valet Kiosk
About This Facility
Affordable and convenient valet parking at the Brookfield Place in Battery Park City. Just a few blocks away from One World Observatory, 9/11 Memorial, and New York City Hall.
Additional fees may apply for oversize vehicles.
Hours of Operation:
Mon 9:30 am - 8:00 pm
Tue 9:00 am - 8:00 pm
Wed 9:00 am - 8:00 pm
Thu 9:00 am - 8:00 pm
Fri 9:00 am - 8:00 pm
Sat 9:30 am - 9:00 pm
Sun 11:30 am - 7:30 pm
1/5
How to Park
1.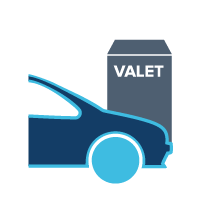 Present parking pass to valet at curbside kiosk in exchange for valet-ticket
2.
If attendant is not at kiosk, please wait as they are parking another vehicle and will return shortly
3.
When you return, present valet-ticket to attendant (tip not included in reservation)