Select the start time and end time
for your booking here.
2650 Virginia Ave. NW.
Watergate Hotel - Valet
About This Facility
Convenient and affordable valet parking at the Watergate Hotel in Georgetown. Just a few minutes to the Charles E. Smith Athletic Center, National Symphony Orchestra, and Family Theatre.
This facility is closed overnight. If you stay beyond valet close, you will be required to pick up your vehicle from 870 9th St NW Washington, DC 20001.
1/3
How to Park
1.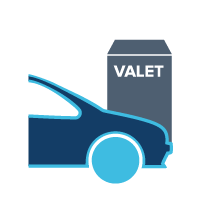 Present parking pass to valet at curbside kiosk in exchange for valet-ticket
2.
If attendant is not at kiosk, please wait as they are parking another vehicle and will return shortly
3.
When you return, present valet-ticket to attendant (tip not included in reservation)