Select the start time and end time
for your booking here.
Hartsfield Jackson Atlanta International Airport
No-Surprise Pricing - All Fees Included

ATL International Hourly
2200 Maynard H. Jackson Jr. Blvd (at North Loop Road)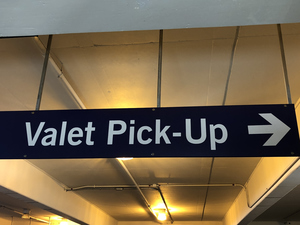 Airport Valet Parking ATL - Curbside Valet
4750 Best Rd.
International Park-Ride
2200 M H Jackson Service Rd

ATL Domestic South Hourly Parking
6000 S Terminal Pkwy (at Airport Blvd)

La Quinta Inn and Suites Atlanta Airport North
1200 Virginia Ave (bet. Delta Blvd-Toffie Terrace)

Crowne Plaza
1317 Virginia Ave

Motel 6
1377 Virginia Ave (bet. Lee St-Harrison Rd)
Doubletree Hotel Airport Parking ATL
3400 Norman Berry Dr.
More about Hartsfield Jackson Atlanta International Airport
Welcome to the
Atlanta Airport Parking
resource page brought to you by BestParking.com.
The Hartsfield-Jackson Atlanta International Airport (ATL) in Atlanta, Georgia is the world's busiest airport. Every year, more than 88 million passengers travel through ATL Airport. The airport serves as the primary hub for several major airlines accommodating nearly 1 million flights annually.
Owned by the City of Atlanta, Harsfield-Jackson International is managed by the city's Department of Aviation. Atlanta Airport Parking is available in several lots and garages located within airport grounds. Parking categories include hourly, daily, and economy parking. Passengers who prefer hassle-free, no wait-in-lines, guaranteed parking may also choose to join the airport's Gold Reserve and Park-Ride Reserve guaranteed parking programs.
Outside the airport, several private parking facilities are also available to ATL passengers. Parking lots like the PreFlight facility along Global Gateway Connector and the Marriott Hotel lot on Best Rd provide airport parking at highly competitive rates with free shuttle transportation.
The following is a brief guide to help you obtain the best results from this Atlanta Airport parking resource page:
Generate and compare Hartsfield Airport parking fees
. You can easily do this by simply entering the time and date of your arrival and departure (at the facility) into the flashing parking cost calculator at the top of this page. Once you've pushed the Calculate Rates button, the relevant parking costs will be displayed within seconds right there on the map, beside each parking garage, and on the table below it. Compare and get the best available option.
Pick your ATL parking lot
. This is the easy part after you've finished the computation above. Choose the most convenient parking lot that offers the best rates. Just point at your selected garage on the map and all the important contact information - exact address, phone numbers, web site, etc. - and description will appear.
Guarantee your parking space
. After you've made your decision, don't forget to reserve your parking, if it's available (look for the blue parking icons on the map). You now have a guaranteed Hartsfield Airport parking space.
Atlanta Airport Parking Rates
Below are the official parking rates at all Atlanta International Airport (ATL) parking lots and garages:
Hourly Parking
- $2 per hour (first 2 hours)
- $3 per (next 4 hours hrs)
- $32 per day (after 6-24hours)
- $36 per day (each additional day)
Daily Parking
- $3 per hour
- $16 per day
Economy Parking
- $3 per hour
- $12 per day
Gold Reserve Parking
No wait in lines, guaranteed space
- $3 per hour
- $30 per day
Park-Ride Reserved Lot
No wait in lines, guaranteed space
- $3 per hour
- $12 per day
The
Atlanta Airport Parking
rates above cover garages and lots currently managed by the airport authority. The ATL parking rate schedule is subject to change and may have been revised since the last update of this page - please check for the latest fees through the parking map and rate calculator above or by visiting the Hartsfield-Jackson Atlanta International Airport (ATL) official web site at www.atlanta-airport.com.
Related Pages:
Birmingham Airport Parking
Montgomery Airport Parking
Charleston Airport Parking
Little Rock Airport Parking