Select the start time and end time
for your booking here.
215 E. Fayette St.
215 E. Fayette St. Lot
About This Facility
Only steps away from The National Aquarium and other famous Inner Harbor sights, Edison ParkFast makes parking in Baltimore the easiest part about visiting this historic destination. When staying for a while, our parking garages in Baltimore offer monthly parking and long-term parking sure to accommodate the most demanding travelers.
Hours of Operation:
Mon 7:00 am - 9:00 pm
Tue 7:00 am - 9:00 pm
Wed 7:00 am - 9:00 pm
Thu 7:00 am - 9:00 pm
Fri 7:00 am - Sat 1:00 am
Sat 9:00 am - Sun 2:00 am
Sun Closed
1/5
Operated by Edison ParkFast
How to Park
1.
Park in any space not marked reserved
2.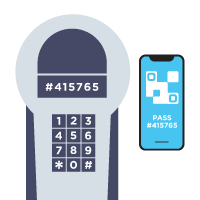 Immediately after parking go to the payment kiosk and choose your time frame
3.
Choose the coupon payment option and enter the coupon code (under the QR code) on your parking pass
4.
Enter your license plate number, your pass is validated by your license plate