Select the start time and end time
for your booking here.
13 Burlington Ave.
Marriott Residence Inn - Valet Kiosk
About This Facility
Secure and affordable valet parking for the Marriott Residence Inn in Fenway-Kenmore. Just a few minutes to the House of Blues, Fenway Park, and Tsai Performance Center.
Access Hours: Mon-Fri 7am - 7pm, Sat-Sun 7:30am-7:30pm
Max Vehicle Height: 7'0"
Overnight and event parking can not be purchased through the app. Anyone who does so will be required to pay the full overnight or event rate at the hotel.
Hours of Operation:
Sun 7:30 am - 7:30 pm
Mon 7:00 am - 7:00 pm
Tue 7:00 am - 7:00 pm
Wed 7:00 am - 7:00 pm
Thu 7:00 am - 7:00 pm
Fri 7:00 am - 7:00 pm
Sat 7:30 am - 7:30 pm
1/5
Operated by VPNE Parking Solutions
How to Park
1.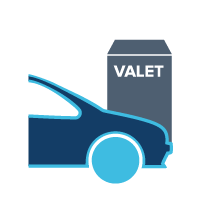 Present parking pass to valet at curbside kiosk in exchange for valet-ticket
2.
If attendant is not at kiosk, please wait as they are parking another vehicle and will return shortly
3.
When you return, present valet-ticket to attendant (tip not included in reservation)