Select the start time and end time
for your booking here.
No-Surprise Pricing - All Fees Included
Smart Parking Garage
1 Park Rd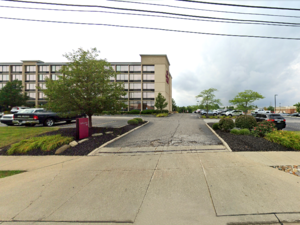 Crowne Plaza Cleveland Airport CLE
7230 Engle Rd.
More about Cleveland Airport
Welcome to BestParking.com's
Cleveland Airport parking
resource page.
Cleveland Hopkins International Airport (CLE) is the largest commercial airport in the state of Ohio. Located within the city limits of Cleveland, CLE handles about 10 million passengers annually on 325 daily nonstop flights to over 85 destinations.
The City of Cleveland's Department of Port Control oversees operations at Cleveland Airport. Passengers can choose from a variety of Cleveland Airport parking options, both on-site and off-airport. The airport operates its own hourly and long-term parking garages, as well as an economy parking lot. Outside of CLE, a few private providers also run parking facilities for CLE passengers.
The following are a few suggestions to help you obtain the best results from this Cleveland Airport parking resource page:
Generate and compare CLE parking rates
. You can easily do this by simply entering the date and time of your arrival and departure (at the facility) into the flashing parking cost calculator near the top of this page. As soon as you've clicked on the Calculate Rates button, your results will appear instantly right there on the map, next to each parking garage or lot, and on the chart underneath. Compare and find the best option.
Select your CLE parking garage
. This is easy once you've done the calculation in the first step. Pick the nearest parking location that works best for you. Just point at its icon on the map and all the important contact information - web site, address, telephone numbers etc. - and description will appear.
Secure your parking spot
. After you've made your decision, remember to book your parking, if it's available (look for the blue-colored icons on the map). You now have a secured Hopkins Airport parking spot.
Cleveland Hopkins Airport Parking Rates
Listed below are the current parking rates at all Cleveland Hopkins International Airport (CLE) parking garages and lots:
Hourly Garage
- 0 to 60 minutes $3.00
- Each additional hour $3.00
- Daily maximum $14.00
- Lost ticket fee $14.00
Long Term Garage
- 0 to 60 minutes $3.00
- Each additional hour $6.00
- Daily maximum $10.00
- Lost ticket fee $10.00
Economy Shuttle Lot
- 0 to 60 minutes $2.00
- 60 to 120 minute $4.00
- Daily maximum $8.00
The
Cleveland Airport parking
rates above only cover airport-operated parking lots and garages. The CLE parking rate structure is subject to change and may have been revised since this web page was updated - please check for the latest rates via the parking map and rate calculator on this page or by logging on to the Cleveland Hopkins International Airport (CLE) web site at: www.clevelandairport.com/.
Related Pages
:
Columbus Airport Parking
CVG Parking
St Louis Airport Parking