PLAYHOUSE SQUARE PARKING
Your space is waiting.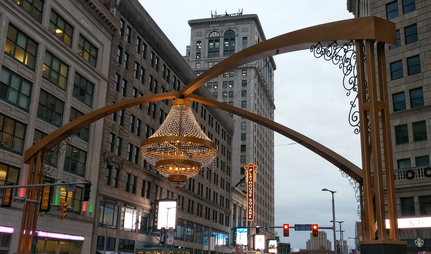 1407 Euclid Ave., Cleveland, OH, 44115
Book now and spend more time on the fun.
BROWSE ALL EVENTS
About Playhouse Square
Playhouse Square Parking The Playhouse Square is the largest performing arts center in the United States outside of New York, and is the Cleveland Theater District in Cleveland, Ohio. The theater was designed in the Italianate style by architect Thomas W. Lamb. Ohio and State are the first two theaters which opened in February 1921. The Charles A. Platt's Hanna Theater along Euclid Avenue opened in March 1921. The Allen Theater in the Bulkley Building designed by C. Howard Crane was opened in 1922, and the last theater to be constructed, the Connor Palace, opened in November 1922. The Playhouse Square was added to the National Register of Historic Places in 1978. Use BestParking to plan where to park your car when you watch a performance in the Playhouse Square. Finding the cheapest and safest parking space in the neighborhood will be easier if you use BestParking.
DISCOVER
AMAZING
SPACES
Find parking anywhere, for now or for later
Compare prices & pick the place that's best for you
Find parking anywhere, for now or for later
Compare prices & pick the place that's best for you
RESERVE
PREPAY
& SAVE
Book a space in just a few easy clicks
Save up to 50% off standard rates
Book a space in just a few easy clicks
Save up to 50% off standard rates
DRIVE
ARRIVE
& PARK
Enter easily with your mobile parking pass
Your space is waiting – pull in and go do your thing
Enter easily with your mobile parking pass
Your space is waiting – pull in and go do your thing
GET TO KNOW US
BETTER FOR BUSINESS
LET US HELP YOU
WE'RE SOCIAL