Select the start time and end time
for your booking here.
Dallas-Forth Worth Airport
No-Surprise Pricing - All Fees Included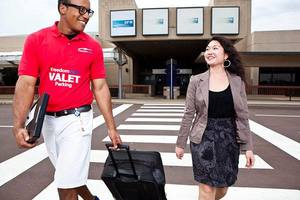 Freedom Park Airport valet 2400 Aviation Dr Parking
2400 Aviation Dr

DFW Terminal D Parking
7417 Dfw intl airport terminal D (at Access Rd)

DFW Terminal C Parking
2334 N International Pkwy (at S Service Rd)

Valeta DFW On-Demand Valet 2400 Aviation Drive North
2400 Aviation Drive North

DFW Terminal E Parking
2400 Aviation Dr

DFW Terminal B Parking
2141 International Pkwy

DFW Terminal A Parking
2020 N Service Rd (bet. W Walnut Hill Ln-N Airfield Dr)

DFW Express North
1 International Service Rd (at N Employee Rd)
More about Dallas-Forth Worth Airport
Welcome to your
DFW Parking
resource and reservation page brought to you by BestParking.com.
In terms of land area, Dallas/Fort Worth International Airport (DFW) is the largest airport in Texas and the fourth largest in the world. It is also the eighth busiest airport in the world, in terms of passenger traffic. DFW serves more than 56 million passengers per year and is the primary commercial airport in the Dallas and Forth Worth metropolitan area.
DFW is jointly owned by the cities of Dallas and Forth Worth and managed by an Airport Board appointed by both city governments. There are approximately 40,000 DFW parking spaces available within the vast DFW grounds distributed in several covered parking structures and lots. Parking at DFW includes Valet, Terminal, Express (hourly), and Remote parking. All parking facilities are serviced by frequently running shuttle vehicles. The Remote parking lots being the farthest away from the terminals are also the least expensive (please see rates below).
Below are a few tips to help you get the most out of your DFW parking resource page:
Compute for and compare DFW Airport parking fees
. You will need to enter your vehicle drop-off and pick-up time and date into the floating parking rate calculator at the top of this page. Once you've pressed the Calculate Rates button, the relevant parking costs will appear automatically right there on the map, next to each parking garage, and on the table underneath. Compare and select the most economical rate.
Choose your DFW Airport parking location
. This is easy after you've done the calculation above. Pick the nearest parking lot that works best for you. Simply point at your chosen facility on the map and all the important contact details - exact address, phone numbers, web site, etc. - and description will appear.
Guarantee your parking space
. Once you've made up your mind on a location, don't forget to book your parking, if it's available (look for the blue parking symbols on the map). You now have a reserved DFW Airport parking space.
DFW Parking Rates
Listed below are the official parking rates at all Dallas/Fort Worth International Airport parking lots and garages:
Valet Parking
Available in all terminals.
Open Door Policy - no reservations required.
- Per Day $22.00 (Plus tax)
Terminal Parking
Located right next to all five DFW terminals.
- 0 min to 8 min $2.00 (w/ TollTag $1.00)
- 8 min to 30 min $1.00
- 30 min to 2 hours $2.00
- 2 to 3 hours $5.00
- 3 to 6 hours $7.00
- 6 to 24 hours $19.00 (with TollTag $18.00)
Express Parking
Covered hourly parking
- 0 min to 8 min $2.00
- 8 min to 1 hour $1.00
- 1 to 3 hours $2.00
- 3 to 6 hours $4.00
- 6 to 9 hours $6.00
- 9 to 24 hours $10.00
- 9 to 24 hours $12.00
Remote Parking
Most economical parking option at DFW
- 0 min to 2 hours $1.00
- 2 to 3 hours $2.00
- 3 to 6 hours $3.00
- 6 to 9 hours $4.00
- 9 to 24 hours $8.00
The preceding
DFW parking
rates only cover lots and garages currently administered by the airport. The Dallas Airport parking rate schedule may have been revised since this web page was updated - please confirm the latest fees via the parking map and rate calculator on this page or by logging on to the Dallas/Fort Worth International Airport (DFW) official web site at: www.dfwairport.com.
Related Pages:
Love Field Parking
Austin Airport Parking
IAH Parking