Select the start time and end time
for your booking here.
No-Surprise Pricing - All Fees Included
Main Terminal (Red & Blue Garage)
800 Hobby Airport Loop
PreFlight
7901 Airport Blvd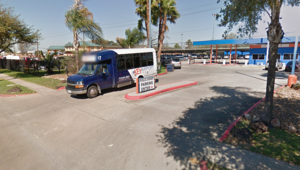 Key Airport Parking HOU
7777 Airport Blvd.
The Parking Spot 2
7601 Airport Blvd
The Parking Spot
8707 Airport Blvd
Fast Park & Relax
8202 Hansen Rd
More about Houston Hobby Airport
Looking for
Hobby Airport parking
? This HOU Airport parking guide and reservation page can help you.
William P. Hobby Airport (HOU) is the first and oldest airport serving the city of Houston in Texas. It is the city's secondary airport (next to IAH Airport) handling national and regional flights. Hobby Airport has always consistently ranked within the top 5 best airports in America, according to surveys conducted by the firm J.D. Power and Associates. Hobby handles more than 8 million passengers, yearly.
Operations at Hobby Airport are managed by the Houston Airport System on behalf of the airport's owner, the City of Houston. Hobby Airport parking is available on-site at the airport-owned terminal garages and at the remote Parking Cents lot. HOU passengers have the option to park daily, hourly, or economy long-term at the Parking Cents lot. In addition, there are several privately-managed off-airport facilities, such as the Super Park Garage on Airport Blvd that HOU passengers can choose from.
Here's a brief guide to help you get the most out of your Hobby Airport parking resource page:
Generate and compare HOU parking fees
. You will need to type in your car drop-off and pick-up date and time into the blinking parking cost calculator at the top of this page. Once you've hit the Calculate Rates button, the actual parking costs will be shown within seconds right there on the map, next to each parking lot, and on the chart underneath. Compare and get the best rate.
Select your HOU parking lot
. This is the easy part once you've done the calculation in the first step. Pick the most convenient parking lot that has the best rates. Just hover the cursor over your chosen garage on the map and all the necessary contact details - type of facility, address, telephone numbers, etc. - and description will be provided.
Book your parking spot
. After you've chosen a facility, remember to book your parking, if it's supported (look for the blue parking symbols on the map). Well done! You now have a reserved HOU airport parking spot.
Houston Hobby Airport Parking Rates
Below are the official parking rates at all William P. Hobby Airport (HOU) parking facilities:
Garage Parking
All Levels, short-term parking
- 0 to 1 hr $2.00
- 1 to 2 hrs $3.00
- 2 to 3 hrs $5.00
- 3 to 5 hrs $7.00
- 5 to 24 hrs $17.00
Parking Cents
Long-term economy parking lot
- 0.0 to 3.0 hrs $3.00
- 3.0 to 24 hrs $8.00
Please remember that the above
Hobby Airport parking
rates only cover airport-owned parking facilities. The HOU parking rate structure may have changed since this web page was published - please find the latest rates using the parking map and rate calculator on this page or by logging on to the William P. Hobby Airport (HOU) web site at www.fly2houston.com/hobbyHome.
Related Pages:
IAH Parking
San Antonio Airport Parking
Palm Beach Airport Parking