Select the start time and end time
for your booking here.
No-Surprise Pricing - All Fees Included
Daily Garage
2400 Dixie Clipper Dr
Economy Lot 1
15105 Pecan Park Rd
Economy Lot 2
15053 Pecan Park Rd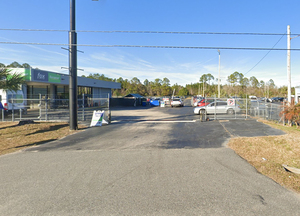 Green Mango Airport Parking JAX
1771 Airport Rd.
Park EZ Fly
1759 Airport Rd
More about Jacksonville Airport
Looking for
Jacksonville Airport parking
? This JAX parking solutions page can definitely help you.
Jacksonville International Airport (JAX) is a joint use civilian-military airport located within a few miles from downtown Jacksonville, in Florida. The airport serves the Jacksonville metropolitan area and the surrounding communities of Duval County. JAX is a fast-growing airport with an estimated passenger traffic of more than 6 million every year.
Jacksonville Airport parking on-site is provided by the Jacksonville Airport Authority in two parking garages and 4 surface lots. Parking categories include hourly garage parking, daily (garage and surface lot), economy, and valet parking (available at the terminal curbside). Outside the airport, a few private establishments, like the AirValet parking lot on Yankee Clipper Drive, also provide excellent parking choices to JAX travelers.
Here are a few tips on how to search for the best Jacksonville Airport parking spots:
Generate and do a comparison of JAX parking rates
. You will need to type in the date and time of your arrival and departure (at the facility) into the blinking parking cost calculator near the top of this page. After you've pressed the Calculate Rates button, the results will be shown instantly right there on the map, next to each parking lot, and on the table underneath. Compare and find the best available rate.
Choose your JAX parking lot
. This is easy after you've finished the calculation in the first step. Select the most convenient parking site that works best for you. Simply hover the cursor over your selected facility on the map and all the important contact details - web site, address, telephone numbers etc. - and description will appear.
Guarantee your parking space
. After you've made your decision, don't forget to place a reservation for your parking, if it's supported (indicated by the blue-colored symbols on the map). You now have a guaranteed JAX airport parking space.
Jacksonville Airport Parking Rates
Listed below are the published parking rates at all Jacksonville International Airport parking facilities:
Hourly Rate
Garage parking
Daily Maximum $16.00
Daily Rate
Garage parking
Daily Maximum $12.00
Daily Rate
Surface Lot
Daily Maximum $10.00
Economy Rate
Economy Lots 1 and 2
Daily Maximum $6.00
Economy Holiday Rate
Lot 3, holidays and special events only.
Daily Maximum $25.00
Valet Parking
Daily rate $20.00
For you Parking Questions, please call 904-741-2277.
Please remember that the preceding
Jacksonville Airport parking
rates only apply to facilities being administered by the airport authority. These rates are subject to change and may have been revised since this web page was published - please check for the current rates via the parking map and rate calculator above or by logging on to the Jacksonville International Airport (JAX) web site at: www.jia.aero.
Related Pages:
Fort Lauderdale Airport Parking
RSW Parking
Orlando Airport Parking