Select the start time and end time
for your booking here.
155 Montgomery St.
155 Montgomery St. Lot
About This Facility
Edison ParkFast gets you into Lower Manhattan on time with safe, trouble-free New Jersey parking near the Holland Tunnel. With many Jersey City parking and New York parking locations neighboring the Holland Tunnel, getting into TriBeCa, SoHo, Chinatown and other historic sections of New York City is always a piece of cake.
1/10
Operated by Edison ParkFast
How to Park
1.
Upon arrival, pull a claims ticket at machine.
2.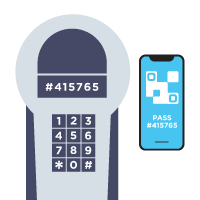 Upon return, use self-checkout kiosk to select BestParking payment. Scan pass and claim ticket, or type in their numbers.