Select the start time and end time
for your booking here.
Miami International Airport
No-Surprise Pricing - All Fees Included

MIA Flamingo Garage
21 Miad Cir (at NW 21st St)

MIA Dolphin Garage
1961 Miad Cir (at NW 21st St)

MIA High-Vehicle Surface Parking Lot
1 Miad Cir (at NW 21st St)

MIA South Parking
21 Miad Cir (at NW 21st St)

Miami International Airport
1350 NW 45th Ave (bet. NW 13th St-NW 15th St)

Park 'N Fly
3901 NW 28th St (bet. NW 37th Ave-NW 40th Ave)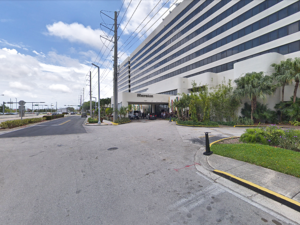 Sheraton Miami Airport Hotel
3900 NW 21st St.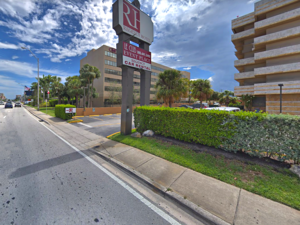 Regency Hotel Cruise Parking
1000 NW 42nd Ave.

Crowne Plaza Miami International Airport
950 NW 42nd Ave (bet. NW 7th St-NW 11th St)
More about Miami International Airport
Looking for
Miami Airport parking
? This MIA parking information page can help you.
Miami International Airport's close proximity to major tourist attractions and high growth economic areas has made it one of the busiest airports in the United States. Its location in the southern U.S. has also made it a popular international gateway (2nd busiest in the U.S.) for passengers bound for or coming from Latin America. Worldwide, Miami International ranks as the 25th busiest airport in terms of total passenger traffic with more than 33 million passengers served every year.
Miami International Airport is the property of Miami-Dade County and managed by the Miami-Dade Aviation Department. The airport authority provides for Miami Airport parking at several garages and lots within airport grounds and at the Park & Ride lots located within a few minutes shuttle drive from the airport. Passengers can choose valet, short-term, long-term, and economy parking in these locations. In addition, MIA travelers have the option to park at privately-managed remote locations like the CBM Park and Fly garage on NW 25TH Street.
Here are a few suggestions on how to get the best results from this Miami Airport parking resource page:
Calculate and evaluate MIA parking costs
. You will need to enter the time and date of your arrival and departure (at the facility) into the floating parking cost calculator at the top of this page. As soon as you've clicked on the Calculate Rates button, your results will appear automatically right there on the map, next to each parking garage or lot, and on the table underneath. Compare and get the best rate.
Select your MIA parking location
. This is easy once you've finished the calculation in the first step. Select the most convenient parking site that works best for you. Simply point at its symbol on the map and all the relevant contact information - exact address, phone numbers, web site, etc. - and description will appear.
Secure your parking space
. After you've decided on a location, remember to reserve your parking, if it's available (look for the blue-colored icons on the map). You now have a reserved MIA airport parking spot.
Miami Airport Parking Rates
The following are the current parking rates at all Miami International Airport parking garages and lots:
Valet Parking
North Dolphin Parking Lot Level 2
- 0 to 3 hours (first day only) $18.00
- 3 to 24 hours $30.00
- Each 24 hour period or fraction thereafter $30.00
Short-Term Parking
For quick visits
- $2.50 per half hour or portion thereof
- Maximum of $30.00 per day.
Long-term Parking
For overnight stays
- 0 to 1 hour $4.00
- 1 to 2 hours $8.00
- 2 to 3 hours $10.00
- 3 to 4 hours $12.00
- 4 to 5 hours $15.00
- Maximum per 24 hour period $15.00
Economy Parking
Park & Ride Surface Lots
- 0 to 1 hour $3.00
- 1 to 2 hours $6.00
- Maximum per 24 hour period $8.00
Please remember that the preceding
Miami Airport parking
rates only apply to garages and lots being run by the airport authority. These rates are subject to change and may have been revised since this web page was published - please confirm the latest rates through the parking map and rate calculator on this page or by logging on to the Miami International Airport (MIA) official web site at: www.miami-airport.com.
Related Pages:
Orlando Airport parking
Tampa Airport parking
Atlanta Airport parking
Need a spot? BestParking has you covered.
Select a city or airport below.
Overview: BestParking is a parking search engine and reservation platform that steers drivers towards the cheapest and most convenient parking facilities in cities and at airports throughout North America. Motorists rely on our website and mobile apps each month to easily compare the hourly, daily, weekly, and monthly rates at thousands of parking facilities, thereby saving hundreds of dollars on parking.
The largest parking operators in the nation have partnered with BestParking to offer reservations, monthly specials, and exclusive deals directly to the site's users. BestParking's "Parking Partners" include Icon Parking Systems, Quik Park, Edison ParkFast, Parkway Corp, and other major operators.
Cities – Daily Parking: Motorists can search for parking by neighborhood, address, cross street, or attraction. All parking garages and lots near the search destination will appear on a map and sortable list. Details for each facility are posted, including addresses, valet/park and lock/self-park, indoor/outdoor, clearance height, electric vehicle charging, and SUV/Minivan/Van/Truck regulations. Our system considers all possible pricing variations (e.g., early-bird, evening, holiday specials, and extra overnight charges) before running an instant rate comparison and returning all results for the time period.
The default vehicle type is a regular vehicle. If driving an oversize or supersize vehicle, be sure to carefully read the garage/lot information for any surcharges. The definition of an oversize vehicle is anything 181" or longer and 70" or higher. It's important to note that while we're able to check official dimensions against the regulations we've been given, the decision to charge for oversize or supersize is ultimately up to the discretion of the attendant onsite. We advise folks to be prepared to pay an oversize fee if they're driving anything larger than a sedan. Airports: All on-airport and off-airport garages and lots for every major U.S. airport are displayed on a map and corresponding list below the map. Details for each facility are provided and all rates can be instantly calculated so that motorists can make a fair and unbiased comparison. Both short-term and long-term parking are supported.
FREQUENTLY ASKED QUESTIONS
Are the quoted rates per hour, per day, or for the entire arrival/departure window?
The quoted rates represent the fee for your entire stay (arrival date/time to departure date/time). Thus, they are neither "per day" nor "per hour." As stated on confirmed bookings, you'll want to arrive and depart within your reserved timeframe; early arrival or late departure may result in additional on-site fees.
---
For facilities that don't offer reservations and/or rate guarantee, how accurate are your rates?
Our data verifiers gather pricing information 2-4x/year. Users can also submit verified pricing information via our iOS and Android applications, by including a photo of the posted rates.
---
A parking facility is missing from your map.
Is the facility open to the public and within our coverage area? If so, please email us at Support@BestParking.com to let us know the address of the missing facility and we'll send our data verifiers to that location as soon as possible.
---
Where can I find the cheapest parking near…?
BestParking is simply a tool to help you decide where you want to park by displaying the rates and locations of parking garages. Because we are an independent company we are unable to provide you with specific recommendations.
However, you should use our hourly parking option to find inexpensive garages near your destination. Simply enter your destination and arrival/departure times to view all parking prices in the area. Please remember that unless a garage offers a reservation, the rate is not guaranteed, and you will need to confirm it personally by contacting the facility directly before parking.
---
Do most facilities allow for in/out service?
No, zero facilities in New York City allow re-entry. Outside New York City, there are a few facilities that allow re-entry, and if they do you'll see that amenity listed in the location details.
---