Select the start time and end time
for your booking here.
Raleigh–Durham International Airport
No-Surprise Pricing - All Fees Included

Premier - Ground Level Parking
1050 Cargo Dr

ParkRDU Central
1050 Cargo Drive

Economy 3
1020 National Guard Dr

FastPark & Relax
8820 FastPark Dr

Days Inn Raleigh Airport
1000 Airport Blvd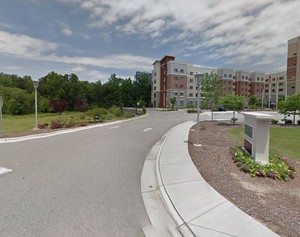 Courtyard Raleigh Durham Airport/Brier Creek RDU
10600 Little Brier Creek Ln.

Wingate by Wyndham Raleigh Durham / Airport
5223 Page Rd
More about Raleigh–Durham International Airport
Welcome to your
RDU Parking
resource page brought to you by BestParking.com.
Raleigh-Durham International Airport (RDU) is the primary commercial airport serving the cities of Raleigh and Durham and the Research Triangle Metropolitan Region in North Carolina. RDU is one of the busiest airports in the South accounting for more than 10 million passengers served every year. RDU Airport provides non-stop flight service to 38 U.S. and foreign destinations.
The RDU Airport Authority manages the facilities maintenance and flight operations at RDU. Parking at the airport is available at the main airport garage and at several "Park and Ride" lots located within airport premises. Options include hourly, daily, and the economical "Park and Ride" parking - a total of more than 20 thousand parking spaces altogether. The airport also provides for peak season parking at its Yellow and Brown Lots.
Below are a few tips to help you search for the best RDU parking options:
Compute for and compare Raleigh Airport parking rates
. You can quickly do this by simply typing in the date and time of your arrival and departure (at the facility) into the floating parking rate calculator at the top of this page. After you've hit the Calculate Rates button, the results will appear automatically right there on the map, next to each parking garage, and on the chart underneath. Compare and choose the best available rate.
Choose your RDU Airport parking garage
. This is easy after you've done the calculation in the first step. Choose the most convenient parking lot that offers the best rates. Just drift the cursor over your selected facility on the map and all the relevant contact details - exact address, phone numbers, web site, etc. - and description will be provided.
Guarantee your parking space
. Once you've chosen a location, remember to place a reservation for your parking, if it's supported (look for the blue-colored icons on the map). You now have a guaranteed RDU airport parking spot.
RDU Parking Rates
The following are the current parking rates at all Raleigh-Durham International Airport (RDU) facilities:
Hourly Parking
- $1 per hour
- $24 daily maximum charge
Daily Parking
- $2 per hour
- $10 daily maximum charge
Park & Ride 3
Purple lot
- $6 Daily
Park & Ride 4
Orange lot
- $6 Daily
Seasonal Parking
Yellow and Brown Lots
- $6 Daily
The
RDU Parking
rates above apply to garages and lots currently managed by the airport authority. The Raleigh Airport parking rate structure may have changed since this web page was updated - please confirm the current rates using the parking map and rate calculator on this page or by visiting the Raleigh-Durham International Airport (RDU) web site at: www.rdu.com.
Related Pages:
Memphis Airport Parking
Nashville Airport Parking
Chattanooga Airport Parking
DFW Parking