EUGENE O'NEILL THEATRE PARKING
Your space is waiting.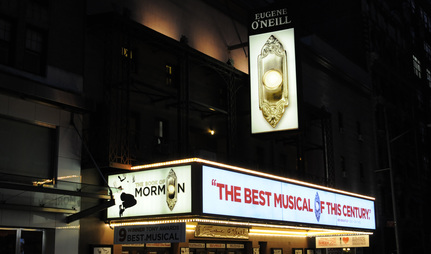 230 West 49th St, New York, NY, 10019
Book now and spend more time on the fun.
BROWSE ALL EVENTS
About Eugene O'Neill Theatre
Eugene O'Neill Theatre Parking You can find the Eugene O'Neill Broadway theatre at 230 West 49th Street in midtown Manhattan. It was initially named Forrest Theatre for the 19th-century tragedian Edwin Forrest. It raised its curtains on November 24th, 1925 with a musical called Mayflowers. In 1945, it received its second name as the Coronet Theatre. Finally, it was rechristened in 1959 as the Eugene O'Neill Theatre in honor of American Playwright Lester Osterman. Some of the Eugene O'Neill Theatre's more recent productions include Good Vibrations, Sweeney Todd, Spring Awakening, 33 Variations, Fela!, and 8. The Eugene O'Neill Theatre currently plays The Book of Mormon. The Book of Mormon is a religious satire musical that has overwhelmingly received a positive response and has won numerous theatre awards. It nabbed 9 Tony awards including Best Musical and a Grammy Award for Best Musical Theatre Album. The Book of Mormon holds the box office record for the Eugene O'Neill Theatre, grossing over 2 million dollars in just nine performances last December of 2012. You'll find yourself quite lucky to score tickets to this gorgeous theatre with its beautiful interiors and eye-catching architecture. An added bonus is that there's literally no bad seat in the house. You're doubly lucky to watch The Book of Mormon which is hilariously funny and tunefully fantastic. You'll need all that good luck though to discover affordable parking in this Broadway scene; and sometimes, luck just isn't enough in the quest to find that rare Broadway parking spot. Shine the spotlight on BestParking and make your parking problems fade to black. With BestParking, get to see where those hidden parking garages are. Use BestParking's website or mobile apps and happily decide on which cheap parking facility to park in. BestParking also lets you use parking coupons for more incredible discounts! You won't believe how easy parking can be with BestParking. Photo by Broadway Tour (Book of Mormon @ Eugene ONeill Theatre on Broadway) [CC BY-SA 2.0 (http://creativecommons.org/licenses/by-sa/2.0)], via Wikimedia Commons
DISCOVER
AMAZING
SPACES
Find parking anywhere, for now or for later
Compare prices & pick the place that's best for you
Find parking anywhere, for now or for later
Compare prices & pick the place that's best for you
RESERVE
PREPAY
& SAVE
Book a space in just a few easy clicks
Save up to 50% off standard rates
Book a space in just a few easy clicks
Save up to 50% off standard rates
DRIVE
ARRIVE
& PARK
Enter easily with your mobile parking pass
Your space is waiting – pull in and go do your thing
Enter easily with your mobile parking pass
Your space is waiting – pull in and go do your thing
GET TO KNOW US
BETTER FOR BUSINESS
LET US HELP YOU
WE'RE SOCIAL
Need a spot? BestParking has you covered.
Select a city or airport below.
Overview: BestParking is a parking search engine and reservation platform that steers drivers towards the cheapest and most convenient parking facilities in cities and at airports throughout North America. Motorists rely on our website and mobile apps each month to easily compare the hourly, daily, weekly, and monthly rates at thousands of parking facilities, thereby saving hundreds of dollars on parking.
The largest parking operators in the nation have partnered with BestParking to offer reservations, monthly specials, and exclusive deals directly to the site's users. BestParking's "Parking Partners" include Icon Parking Systems, Quik Park, Edison ParkFast, Parkway Corp, and other major operators.
Cities – Daily Parking: Motorists can search for parking by neighborhood, address, cross street, or attraction. All parking garages and lots near the search destination will appear on a map and sortable list. Details for each facility are posted, including addresses, valet/park and lock/self-park, indoor/outdoor, clearance height, electric vehicle charging, and SUV/Minivan/Van/Truck regulations. Our system considers all possible pricing variations (e.g., early-bird, evening, holiday specials, and extra overnight charges) before running an instant rate comparison and returning all results for the time period.
The default vehicle type is a regular vehicle. If driving an oversize or supersize vehicle, be sure to carefully read the garage/lot information for any surcharges. The definition of an oversize vehicle is anything 181" or longer and 70" or higher. It's important to note that while we're able to check official dimensions against the regulations we've been given, the decision to charge for oversize or supersize is ultimately up to the discretion of the attendant onsite. We advise folks to be prepared to pay an oversize fee if they're driving anything larger than a sedan. Airports: All on-airport and off-airport garages and lots for every major U.S. airport are displayed on a map and corresponding list below the map. Details for each facility are provided and all rates can be instantly calculated so that motorists can make a fair and unbiased comparison. Both short-term and long-term parking are supported.
FREQUENTLY ASKED QUESTIONS
Are the quoted rates per hour, per day, or for the entire arrival/departure window?
The quoted rates represent the fee for your entire stay (arrival date/time to departure date/time). Thus, they are neither "per day" nor "per hour." As stated on confirmed bookings, you'll want to arrive and depart within your reserved timeframe; early arrival or late departure may result in additional on-site fees.
---
For facilities that don't offer reservations and/or rate guarantee, how accurate are your rates?
Our data verifiers gather pricing information 2-4x/year. Users can also submit verified pricing information via our iOS and Android applications, by including a photo of the posted rates.
---
A parking facility is missing from your map.
Is the facility open to the public and within our coverage area? If so, please email us at Support@BestParking.com to let us know the address of the missing facility and we'll send our data verifiers to that location as soon as possible.
---
Where can I find the cheapest parking near…?
BestParking is simply a tool to help you decide where you want to park by displaying the rates and locations of parking garages. Because we are an independent company we are unable to provide you with specific recommendations.
However, you should use our hourly parking option to find inexpensive garages near your destination. Simply enter your destination and arrival/departure times to view all parking prices in the area. Please remember that unless a garage offers a reservation, the rate is not guaranteed, and you will need to confirm it personally by contacting the facility directly before parking.
---
Do most facilities allow for in/out service?
No, zero facilities in New York City allow re-entry. Outside New York City, there are a few facilities that allow re-entry, and if they do you'll see that amenity listed in the location details.
---