RADIO CITY MUSIC HALL PARKING
Your space is waiting.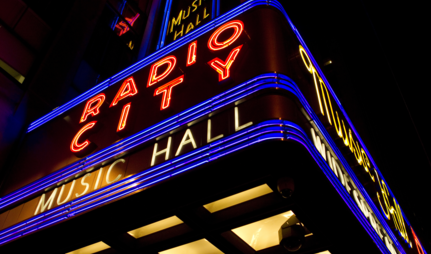 1260 6th Avenue, New York, NY, 10020
Book now and spend more time on the fun.
BROWSE ALL EVENTS
About Radio City Music Hall
Radio City Music Hall is one of the premiere venues for concerts, comedy and stage shows in New York City. Situated close to the Theatre District, it can be challenging to find a convenient place to park, so it makes sense to book Radio City Music Hall parking in advance of the show with BestParking. The venue has been the site of several famous concerts and entertainment events over the years, including a Pink Floyd concert in March 1973, eight shows by the Grateful Dead in October 1980, a show by Devo in October 1981, and two concerts by A-ha in 1987, along with fourteen Liberace concerts throughout the 1980s. More recent concerts of note at Radio City Music Hall included tour stops by Lady Gaga and Tony Bennett for their Cheek to Cheek Tour in June 2015, a concert by Adele in November later that year and two shows in two days during July 2018 by Britney Spears for the Piece of Me Tour. Christina Aguilera performed twice at the venue in October 2018, and this was followed by a concert by Mariah Carey in March 2019. The music hall has on occasion been the location for television shows, including Late Night with David Letterman, America's Got Talent, Jeopardy!, Hollywood Squares and Wheel of Fortune. Notably, the Riverdance dance show had their first show in North America at the venue in March 1996, and the NBA Draft was held at the venue in 2006 and 2014. Recent performances include concerts by Lionel Richie, Lenny Kravitz, Incubus, Lizzo, Diana Ross, Nine Inch Nails, Al Green and Billie Eilish. With so many popular performers, it can be difficult to find convenient Radio City Music Hall parking without booking ahead of time with BestParking.
DISCOVER
AMAZING
SPACES
Find parking anywhere, for now or for later
Compare prices & pick the place that's best for you
Find parking anywhere, for now or for later
Compare prices & pick the place that's best for you
RESERVE
PREPAY
& SAVE
Book a space in just a few easy clicks
Save up to 50% off standard rates
Book a space in just a few easy clicks
Save up to 50% off standard rates
DRIVE
ARRIVE
& PARK
Enter easily with your mobile parking pass
Your space is waiting – pull in and go do your thing
Enter easily with your mobile parking pass
Your space is waiting – pull in and go do your thing
GET TO KNOW US
BETTER FOR BUSINESS
LET US HELP YOU
WE'RE SOCIAL