Select the start time and end time
for your booking here.
Phoenix Sky Harbor International Airport
No-Surprise Pricing - All Fees Included
Terminal 4 Garage
3400 E Sky Harbor Blvd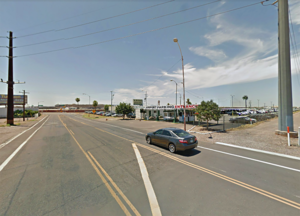 Off-Site Sky Harbor Airport Parking PHX
402 S. 40th St.
The Parking Spot 1
3750 E Washington St
Sundance Airport Parking
215 N 40th St
The Parking Spot 2
4040 East Van Buren Street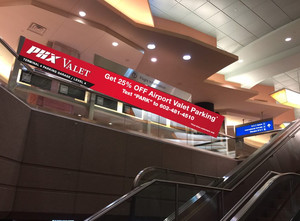 PHX Valet By FreedomPark
402 S. 24th St.
The Parking Spot South
3025 S. 48th St
More about Phoenix Sky Harbor International Airport
Trying to find a great
Phoenix Airport parking
spot? Welcome to BestParking.com's PHX parking information and reservation page.
Phoenix Sky Harbor International Airport (PHX) is the largest and busiest commercial airport serving the City of Phoenix metropolitan area in Maricopa County, Arizona. Sky Harbor Airport is the largest commercial airport in the American Southwest region. In terms of total passenger traffic, PHX is the 9th busiest airport in the United States and one of the top 20 busiest airports in the world. Close to 40 million passengers travel through this airport, every year.
PHX is managed by the Phoenix Airport System and owned by the City of Phoenix. Airport parking is provided by the airport authority in 25,376 spaces distributed in 3 terminal garages, 2 economy garages, a top level lot, 2 surface lots, and an employee parking facility. Parking options include hourly, daily, economy garage, and economy surface lot parking. Outside the airport, several privately-managed locations, like the Sky Harbor airport parking garage on S 40th St, also offer superior parking solutions to PHX passengers.
The following is a short guide on how to search for the best Phoenix Airport parking spots:
Calculate and do a comparison of PHX Airport parking rates
. You will need to type in the time and date of your arrival and departure (at the garage) into the drop-down parking rate calculator near the top of this page. As soon as you've pressed the Calculate Rates button, the relevant parking costs will be displayed within seconds right there on the map, next to each parking garage or lot and on the table underneath. Match up and choose the most economical rate.
Choose your PHX Airport parking location
. This is the easy part once you've done the calculation in the first step. Select the most convenient parking lot that works best for you. Simply slide the cursor over your chosen garage on the map and all the necessary business information - phone number, location, facility type etc. will appear.
Secure your parking space
. After you've made your decision, remember to book your parking, if it's supported (look for the blue parking icons on the map). Congratulations! You now have a reserved Sky Harbor airport parking space.
Phoenix Airport Parking Rates
Below are the current parking rates at the Phoenix Sky Harbor International Airport parking facilities:
Short-Term Parking
Terminal Garages
- $4 per hour ($1 per 15 minutes)
- $25 daily maximum
Economy Parking
West & East Uncovered Lots
- $4 per hour
- $9 daily maximum
Economy Parking
Terminal 2, Upper Level Uncovered Economy Lot
- $4 per hour
- $11 daily maximum
Economy Parking
East Economy Garages A & B
- $4 per hour
- $11 daily maximum
The preceding
Phoenix Airport parking
rates apply only to airport-operated parking lots and garages. The PHX parking rate structure is subject to change and may have been revised since the last update of this page - please confirm the latest fees via the tools on this page or by visiting the Phoenix Sky Harbor International Airport (PHX) web site at: www.skyharbor.com.
Other Airports:
DIA Parking
Tucson Airport Parking
Albuquerque Airport Parking
Las Vegas Airport Parking