MODA CENTER PARKING
Your space is waiting.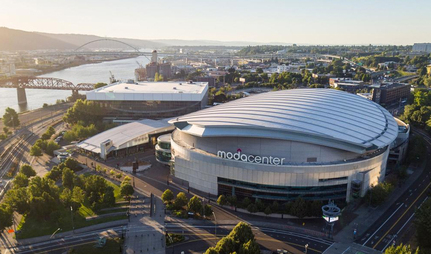 1 Center Ct., Portland, OR, 97227
Book now and spend more time on the fun.
BROWSE ALL EVENTS
About Moda Center
There are many sports arenas within the area of Portland, Oregon, but only the unique Moda Center in the city's Rose Quarter district can be reconfigured for the needs of a wide variety of events, including basketball, hockey, concerts, theatre and conventions. With such a wide range of configurations in addition to an NBA basketball team being hosted there, it is crucial to book Moda Center parking ahead of the event with BestParking. Situated adjacent to the Trail Blazers' former home of Memorial Coliseum, the venue opened to the public in October 1995 in order to house the team, with the capabilities to host an NHL team should the city be awarded a franchise. The venue is designed so that it consists of an upper and lower bowl with luxury boxes and suites in between. Moda Center has 4,200 movable seats, which gives it enormous flexibility in how to set up the stage. One notable seat configuration is Theater of the Clouds, which uses less floor space than a full basketball court and utilizes curtains on the edges of the seating area for a more cozy setting. The arena is made up of eight levels, of which only five are available to guests. The sound system for the venue is also notable, utilizing 160 rotating acoustic panels to create the "acoustical cloud" which can be configured bespoke for a given event. The former Rose Garden Arena has also hosted several WWE Monday Night Raw, Smackdown, NXT Takeover and UFC events, the first and second round games for the 2009 and 2015 NCAA men's basketball games and the 2005 US Figure Skating Championships, which demonstrate its great range and flexibility. With a legendary basketball team and a wide range of concerts and other events, it can be hard to find a place to park unless you book Moda Center parking when planning to attend an event there.
DISCOVER
AMAZING
SPACES
Find parking anywhere, for now or for later
Compare prices & pick the place that's best for you
Find parking anywhere, for now or for later
Compare prices & pick the place that's best for you
RESERVE
PREPAY
& SAVE
Book a space in just a few easy clicks
Save up to 50% off standard rates
Book a space in just a few easy clicks
Save up to 50% off standard rates
DRIVE
ARRIVE
& PARK
Enter easily with your mobile parking pass
Your space is waiting – pull in and go do your thing
Enter easily with your mobile parking pass
Your space is waiting – pull in and go do your thing
GET TO KNOW US
BETTER FOR BUSINESS
LET US HELP YOU
WE'RE SOCIAL