Select the start time and end time
for your booking here.
No-Surprise Pricing - All Fees Included
Sheraton San Diego Hotel & Marina
1380 Harbor Island Dr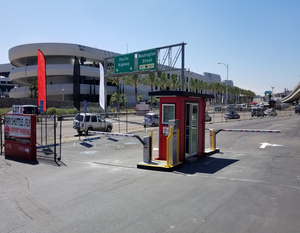 San Diego's Park, Shuttle & Fly Lot B
2230 Sassafras St.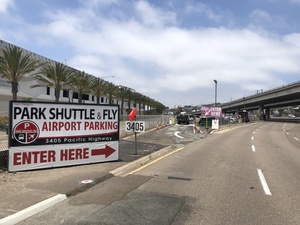 San Diego's Park, Shuttle & Fly Lot A
3405 Pacific Hwy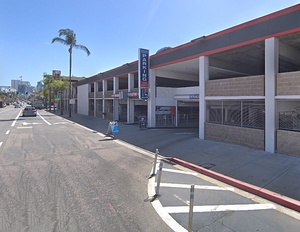 Aladdin Airport Parking SAN
2548 Kettner Blvd.
LAUREL Airport Parking
2443 Kettner Blvd
Terminal 2 Parking Lot
2311 McCain Road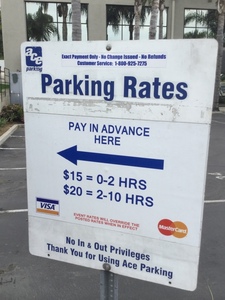 India St Parking Lot
765 W Juniper St
San Diego - Hampton Inn PCH
1531 Pacific Hwy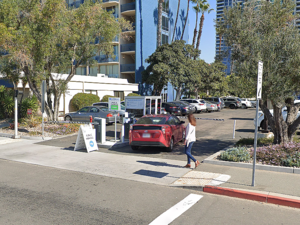 Wyndham Bayside Lot - Self Park
1355 N. Harbor Dr.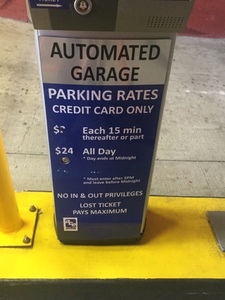 W Beech St Garage
731 W Beech St
More about San Diego Airport
Searching for a good
San Diego Airport parking
spot? This SAN Airport parking resources page can assist you.
San Diego International Airport (SAN) is the busiest single runway commercial airport in the United States. It is the primary airport serving the City of San Diego greater metropolitan area. Annually, over 18 million travelers pass through SAN Airport. SAN has a reputation as a well-managed airport - in the the last three years, the prestigious Airports Council International has repeatedly ranked San Diego Airport within the top 4 best airports in the U.S. in the 15-25 million passenger category.
San Diego International is currently managed by the San Diego County Regional Airport Authority. San Diego Airport parking is available on-site in facilities adjacent to each terminal and in 3 remote long-term parking locations. Parking options at SAN include short-term, long-term, and valet parking. Finally, SAN travelers may elect to park at privately-owned remote locations like Park Shuttle and Fly lot on Lee Court.
Here's a brief guide on how to find the best San Diego Airport parking locations:
Determine and evaluate SAN parking rates
. You will have to type in your vehicle drop-off and pick-up time and date into the blinking parking rate calculator at the top of this page. After you've pressed the Calculate Rates button, your actual parking costs will appear automatically right there on the map, beside each parking garage or lot, and on the table underneath. Compare and find the most economical option.
Pick your SAN parking facility
. This is the easy part after you've done the computation in the first step. Select the most convenient parking lot that offers the best rates. Just hover the cursor over its icon on the map and all the necessary business information - exact address, phone numbers, web site, etc. will be displayed.
Book your parking spot
. After you've decided on a garage, remember to place a reservation for your parking, if it's supported (look for the blue parking icons on the map). Well done! You now have a reserved SAN Airport parking space.
San Diego Airport Parking Rates
The following are the current parking rates at all San Diego International Airport (SAN) parking facilities:
Short-Term Parking
In front of each terminal
0-30 minutes $2.00
31 minutes to 1 hour $4.00
1.0-1.5 hours $6.00
1.5-2.0 hours $8.00
2.0-2.5 hours $10.00
2.5-3.0 hours $12.00
3.0-3.5 hours $14.00
3.5-4.0 hours $16.00
4.0-4.5 hours $18.00
4.5-5.0 hours $20.00
5.0-24 hours $21.00
Additional Days $26.00
San Diego Airport Long-Term Parking
SAN Park NTC
2395 McCain Road
Daily Rate $16.00
SAN Park Harbor Drive
3015 North Harbor Drive
Daily Rate $16.00
SAN Park Pacific Highway
3302 Pacific Highway
Daily Rate $10.00
Please note that the above
San Diego Airport parking
rates apply only to airport-operated parking locations. These rates may have modified since the last update of this page - please find the latest fees through the tools on this page or by visiting the San Diego International Airport (SAN) web site at: www.san.org.
Parking in Other Airports:
LAX Parking
Oakland Airport Parking
San Francisco Airport Parking
SeaTac Parking