Select the start time and end time
for your booking here.
Mineta San Jose International Airport
No-Surprise Pricing - All Fees Included
Hourly Lot 2 (Terminal A Garage)
2075 Airport Blvd
Hourly Lot 3 (Terminal B Garage)
1659 Airport Blvd
Economy Lot 1
2300 Airport Blvd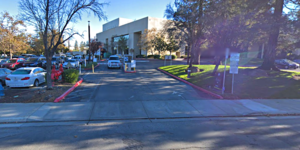 DoubleTree Hotel Airport Parking SJC
2050 Gateway Pl.
Hourly & Daily - Lot 5
1661 Airport Blvd
Daily Lot 4
1639 Airport Blvd
Joy Park Fly Airport Parking
1740 N 4th St

Santa Clara Station
1001 Railroad Ave

Santa Clara Caltrain Station
1001 Railroad Ave
More about Mineta San Jose International Airport
Searching for a good
San Jose Airport parking
spot? Welcome to BestParking.com's SJC parking resources and reservation page.
Norman Y. Mineta San Jose International Airport (SJC) is the primary commercial airport serving the City of San Jose and the Bay Area in California. Its convenient location right in the heart of San Jose, the most populous city in the Bay Area, has made it a favorite among travelers here. More than 5 million passengers are served by SJC annually.
The City of San Jose owns and oversees the day-to-day operations at San Jose Airport. Parking is available on-site at the parking garage in Terminal A, the outdoor lot near Terminal B, and at the long-term parking lot along Martin Ave on the other side of the airport's parallel runways. Short-term terminal parking, long-term parking, and disabled parking are among the parking services offered at SJC. Outside the airport, a few private lots and garages, like the Park and Jet lot on Laurelwood Road, also offer great parking solutions to SJC travelers.
The following is a short guide on how to find the best San Jose Airport parking options using the tools above:
Calculate and compare SJC parking costs
. You will have to enter your vehicle drop-off and pick-up time and date into the drop-down parking cost calculator at the top of this page. Once you've hit the Calculate Rates button, the results will appear automatically right there on the map, beside each parking garage or lot, and on the table below it. Compare and select the best available rate.
Pick your SJC parking lot
. This is the easy part after you've done the computation above. Pick the most convenient parking lot that works best for you. Just point at its icon on the map and all the necessary contact details - phone number, location, facility type etc. will be provided.
Book your parking space
. After you've picked a facility, don't forget to book your parking, if it's available (indicated by the blue-colored symbols on the map). Well done! You now have a guaranteed SJC airport parking spot.
San Jose Airport Parking Rates
Below are the published parking rates at all Norman Y. Mineta San Jose International Airport parking garages and lots:
Long-Term Parking
Along Martin Avenue, free shuttle transportation provided.
- $1.00 per 20 minutes
- $15.00 Daily Maximum
Terminal Parking
Garages A and B
- $1.00 per 20 minutes
- $30.00 Daily Maximum
Disabled Parking
Available in all facilities.
- $1.00 per 20 minutes
- $15.00 Daily Maximum
The preceding
San Jose parking
rates only cover airport-owned parking lots and garages. The SJC parking rate schedule is subject to change at the discretion of airport management and may have been modified since the publication of this page - please confirm the most updated prices through the tools on this page or by logging on to the Norman Y. Mineta San Jose International Airport (SJC) official web site at: www.sjc.org.
Related Pages:
John Wayne Airport Parking
Burbank Airport Parking
Toronto Airport Parking