Select the start time and end time
for your booking here.
No-Surprise Pricing - All Fees Included
Terminal Parking B2
18601 Airport Way
Terminal Parking C
18601 Airport Way
Terminal Parking A2
18601 Airport Way

Hilton Irvine/Orange County Airport
18800 MacArthur Blvd
Terminal Parking A1
18601 Airport Way

Lakeshore Towers
18101 Von Karman Ave

Off-Airport Parking (Main St)
1512 Main St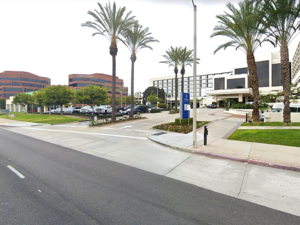 Hilton Orange County/ Costa Mesa SNA - Self Park
3050 Bristol St.
More about John Wayne Airport
Looking for a great
John Wayne Airport parking
location? Welcome to BestParking.com's SNA parking solutions and booking page.
John Wayne Airport (SNA) is the primary commercial airport serving Orange County in California. It used to be called Orange County Airport until 1979 when it was renamed John Wayne Airport. SNA is the only airport within the boundaries of Orange County and its close proximity to the Disneyland Resort has made it one of the busiest airports in the area. Annually, close to 9 million passengers use SNA Airport.
The government of Orange County owns and manages the operations at John Wayne Airport. Parking is available in 3 terminal parking structures, at the uncovered parking lot C (also near the terminals) and at the remote Main Street parking location. Passengers may choose Valet, terminal, uncovered, and economy parking from among the different options available. For parking alternatives outside the airport, SNA passengers can elect to bring their vehicles to airport hotel parking facilities like the Irvine Marriott parking lot on Von Karman Ave.
Below are some tips on how to get the best results from this John Wayne Airport parking resource page:
Generate and evaluate SNA parking fees
. You will have to type in your car drop-off and pick-up date and time into the floating parking cost calculator near the top of this page. As soon as you've pushed the Calculate Rates button, your results will appear automatically right there on the map, beside each parking garage or lot, and on the chart beneath. Match up and get the most economical option.
Choose your SNA parking facility
. This is the easy part once you've done the calculation above. Pick the nearest parking garage that works best for you. Just point at its icon on the map and all the important business details - web site, address, telephone numbers etc. will appear.
Guarantee your parking space
. After you've made your choice, don't forget to book your parking, if it's available (look for the blue-colored icons on the map). Well done! You now have a reserved Orange County airport parking spot.
John Wayne Airport Parking Rates
Below are the published parking rates at all Orange County - John Wayne Airport (SNA) parking stations:
Valet Parking
First day:
- $30 (Flat Rate)
After first day, add:
- $10 per hour up to
- $30 per 24-hour period
Terminal Parking
A1, A2 and B2 parking structures
- $2 per hour up to
- $20 per 24-hour period
Parking Lot C
Uncovered parking south of terminal, free shuttle service available.
- $2 per hour up to
- $17 per 24-hour period
Main Street Parking
Off-airport. Most economical parking option.
- $2 per hour up to
- $14 per 24-hour period
Handicapped Parking
Full valet rates will apply for Valet Parking.
- $2 per hour up to
- $14 per 24-hour period
The
John Wayne Airport parking
rates above apply only to airport-owned parking lots and garages. These rates may have changed since the last update of this page - please confirm the latest prices through the parking map and rate calculator on this page or by logging on to the Orange County - John Wayne Airport (SNA) official web site at: www.ocair.com.
Related Pages:
San Jose Airport Parking
Burbank Airport Parking
Toronto Airport Parking