Select the start time and end time
for your booking here.
Dayton International Airport
No-Surprise Pricing - All Fees Included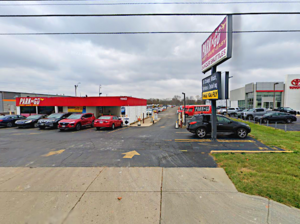 Park-N-Go Airport Parking DAY - Valet
1140 W. National Rd.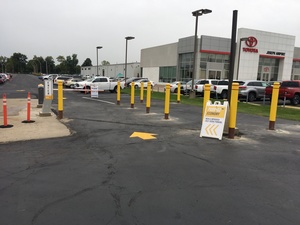 Park-N-Go Airport Parking DAY
1140 W. National Rd
More about Dayton International Airport
Welcome to your
Dayton Airport parking
resource page brought to you by BestParking.com.
Owned and operated by the city of Dayton in Ohio, James M. Cox Dayton International Airport (DAY) is a public airport located nine miles north of the city's central business district. Dayton Airport is considered to be one of the 10 fastest growing airports in the country and the third busiest airport in Ohio, next to Port Columbus and Cleveland Hopkins airports. In 2008, close to 3 million passengers flew through Dayton International Airport.
The City of Dayton's Department of Aviation operates DAY Airport and provides numerous Dayton Airport parking facilities for passengers. These include short-term, valet, Blue long-term, Red long-term, credit card, economy, overflow (during peak seasons), and disabled passengers parking. Please see below for the actual rates. In addition, passengers also have the option to park at the privately-owned off-airport parking facilities located within a few minutes drive from the airport.
The following are some suggestions to help you search for the best Dayton Airport parking options:
Compute for and compare DAY parking rates
. You can easily do this by simply entering the date and time of your arrival and departure (at the facility) into the floating parking cost calculator at the top of this page. Once you've hit the Calculate Rates button, your results will appear within seconds right there on the map, next to each parking facility, and on the chart below it. Compare and choose the cheapest rate.
Choose your DAY parking location
. This is the easy part after you've finished the computation above. Select the most convenient parking garage that works best for you. Simply point at your selected facility on the map and all the important contact details - exact address, phone numbers, web site, etc. - and description will be provided.
Guarantee your parking space
. Once you've decided on a facility, don't forget to reserve your parking, if it's allowed. That was quick! You now have a secured DAY airport parking spot.
Dayton Airport Parking Rates
Listed below are the current parking rates at all Dayton International Airport parking facilities:
Short Term / Parking Garage
0-30 Min - Free
31 Min-1 Hour - $3.00
Each Addl. - $3.00
Daily Max. - $18.00
Valet Parking
0-4 Hours - $10.00
Each Addl. - $2.00
Daily Max. - $20.00
Blue Long Term Parking
0-1 Hour - $2.00
Each Addl. - $2.00
Daily Max. - $12.00
Red Long Term Parking
0-1 Hour - $2.00
Each Addl. - $2.00
Daily Max. - $12.00
Credit Card Parking
0-1 Hour - $2.00
Each Addl. - $2.00
Daily Max. - $14.00
Economy Parking
0-1 Hour - $2.00
Each Addl. - $2.00
Daily Max. - $6.00
Weekly Max. - $36.00
Please note that the preceding
Dayton Airport parking
rates only cover airport-owned parking lots and garages. These rates are subject to change and may have been revised since the publication of this page - please find the current rates using the parking map and rate calculator above or by visiting the Dayton International Airport (DAY) web site at: www.flydayton.com.
Parking in Other Airports
:
Midway Airport Parking
O'Hare Parking
Cleveland Airport Parking