Select the start time and end time
for your booking here.
Bradley International Airport
No-Surprise Pricing - All Fees Included

The Parking Spot
9 Schoephoester Rd

Fly Economy Parking
110 Ella Grasso Tpke

BDL Short & Long Term Garage
1 Schoephoester Rd

Econo Lodge Inn & Suites Airport
34 Old County Rd

Park & Walk Lot 2
1 Bradley International Airport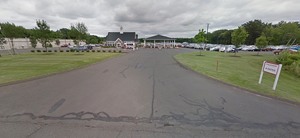 Executive Valet Parking - Bradley Airport
1186 South St.
More about Bradley International Airport
Welcome to BestParking.com's
Bradley Airport parking
resource page.
Bradley International Airport (BDL) is Connecticut's busiest commercial airport and the second busiest in New England after Boston's Logan Airport. It has daily flights to important US destinations, as well as to Canada and San Juan, Puerto Rico. Bradley airport is located in the heart of Connecticut, conveniently close to major local attractions. One of the most exciting attractions near BDL is the New England Air Museum, which is simply a few minute's drive north on Perimeter Road. Parking at Bradley International Airport can be found in and around the airport, offering a variety of solutions at very reasonable rates.
The following are some suggestions on how to obtain the best results from your Bradley Airport parking resource page:
Calculate and compare BDL parking costs
. You can easily do this by simply entering the date and time of your arrival and departure (at the facility) into the blinking parking rate calculator at the top of this page. After you've pushed the Calculate Rates button, the results will be shown instantly right there on the map, beside each parking garage, and on the table below it. Compare and choose the best option.
Choose your BDL parking garage
. This is the easy part once you've finished the computation in the first step. Select the most convenient parking site that offers the best rates. Simply hover the cursor over your chosen garage on the map and all the necessary contact details - web site, address, telephone numbers etc. - and description will be provided.
Book your parking spot
. After you've made your selection, remember to make a reservation for your parking, if it's supported. Well done! You now have a reserved Bradley Airport parking spot.
Airport Parking Rates
Listed below are the official parking rates at all Bradley International Airport parking lots and garages:
Hourly Parking
- 1st ½ hour is $2.50
- 1st hour is $4.50
- Daily rate is $24.00
- No weekly rates
Daily Parking
- 1st hour is $4.00
- Each additional hour is a $1.00 more
- Daily rate is $11.00
- Weekly rate is $55.00
Weekly Parking
- 1st hour is $4.00
- Each additional hour is a $1.00 more
- Daily rat e is $7.50
- Weekly rate is $45.00
Economy Parking
- 1st hour is $4.00
- Daily rate is $6.00
- Weekly rate is $36.00
Please remember that the preceding
Bradley Airport parking
rates only apply to airport-run parking lots and garages. These rates may have been revised since the publication of this page - please find the current rates using the parking map and rate calculator above or by visiting the Bradley Airport web site at: www.bradleyairport.com.
Related Pages:
Logan Airport Parking
TF Green Parking
Manchester NH Airport Parking
Philadelphia Airport Parking