MADISON SQUARE GARDEN PARKING
Your space is waiting.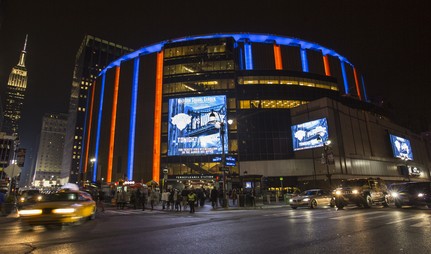 4 Pennsylvania Plaza, New York, NY, 10001
Book now and spend more time on the fun.
BROWSE ALL EVENTS
About Madison Square Garden
About Madison Square Garden

Madison Square Garden is a multi-purpose indoor arena in midtown Manhattan. It's located between the Seventh and Eighth Avenues from 31st St to 33rd St. This is actually the fourth venue to bear the "Madison Square Garden" name so it is sometimes referred to as Madison Square Garden IV.

The Garden hosts a lot of different events such as professional basketball, ice hockey, boxing, concerts, ice shows, circuses, and other forms of sports and entertainment. It is the home to the New York Knicks of the National Basketball Association, the New York Rangers of the National Hockey League, and the New York Liberty of the Women's National Basketball Association.

Madison Square Garden is now the oldest active major sporting facility going back to its opening date of February 11, 1968. It is the oldest arena in the National Hockey League and the second-oldest arena in the National Basketball Association.

MSG is the third-busiest music arena in the world in terms of ticket sales and hosts approximately 320 various events a year. It is also known for its place in the history of boxing. Many of boxing's biggest fights were held at Madison Square Garden before boxing moved to Las Vegas.

The current seating capacity for basketball in Madison Square Garden is 19,033 while the seating capacity for hockey is 17,200. As you can imagine, a major event taking place at the Garden would mean an almost impossible challenge to find parking.

With BestParking, we give you the ability to see where all the nearby parking garages and lots are. This changes a very difficult parking dilemma into a rather easy to solve puzzle.

Another boon to using BestParking is the availability of on-street parking data. It's never been so easy to see where on-street parking is ok and where it's not.

BestParking lets you enter different parking time periods and instantly see where the parking rates are cheaper. Our rate calculator automatically computes parking specials, rate guarantees, and parking coupons that will undoubtedly save you from outrageous parking costs at Madison Square Garden.
DISCOVER
AMAZING
SPACES
Find parking anywhere, for now or for later
Compare prices & pick the place that's best for you
Find parking anywhere, for now or for later
Compare prices & pick the place that's best for you
RESERVE
PREPAY
& SAVE
Book a space in just a few easy clicks
Save up to 50% off standard rates
Book a space in just a few easy clicks
Save up to 50% off standard rates
DRIVE
ARRIVE
& PARK
Enter easily with your mobile parking pass
Your space is waiting – pull in and go do your thing
Enter easily with your mobile parking pass
Your space is waiting – pull in and go do your thing
GET TO KNOW US
BETTER FOR BUSINESS
LET US HELP YOU
WE'RE SOCIAL